BOBBIN LACE
Bobbin Lace are a group of ladies who enjoy lacemaking and meet regularly to enjoy this together, along with a chat and a cuppa!
BROXTOWE KEEP FIT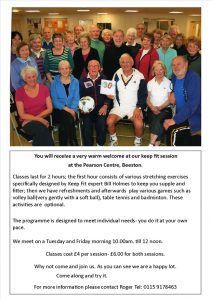 Bill's Keep Fit group, for the mature adult, opeartes on Tuesday morning at The Pearson Centre. One hour of exercises then optional games to learn/improve such as volleyball, badminton and table tennis.
SPROUTS
Visit the Sprouts website
WEA
WEA run a variety of courses for adults. For more details of courses currently available, view their website here
REDEEMED CHRISTIAN CHURCH OF GOD
Meets twice a week.  Wednesday from 6.30 – 8.30 pm for bible study and Sunday morning from 9am for Sunday worship.
MODERN PILATES
Do you want to improve your core, posture, balance and overall well-being? Then why not try Pilates! Sessions run every Wednesday 12.30 – 1.30pm at The Centre. Suitable for all levels and only £5 per class!
For more information please contact Amy on: 07985620212 or email: amy@godsmark.co.uk