Stay Safe!!
We are very sorry we have had to cancel our Holiday Club and other activities here at The Pearson Centre. 
To carry on our work with you guys, we have uploaded some fun and exciting activities for you to do at home.I hope you enjoy your time at home as much as you can and I really look forward to welcoming you all back to the centre as soon possible!!
I have made some recipe sheets so you can cook together at home and also some other fun activities and crafts to give you a break from school work and the TV! Click on the links below and have some fun!!
Recipes 
Look after yourselves everyone and stay safe!!
Booking Information
To book a place on our Holiday Club contact the centre on 0115 925 4112 or alternatively email Hayley our development worker at: developmentworker@thepearsoncentre.org.uk.
A booking form and consent form will need to be completed prior to the holiday club. Payment confirms the place and can be paid via BACS, cheque or cash.
Please make sure there are spaces available before any payments are made via BACS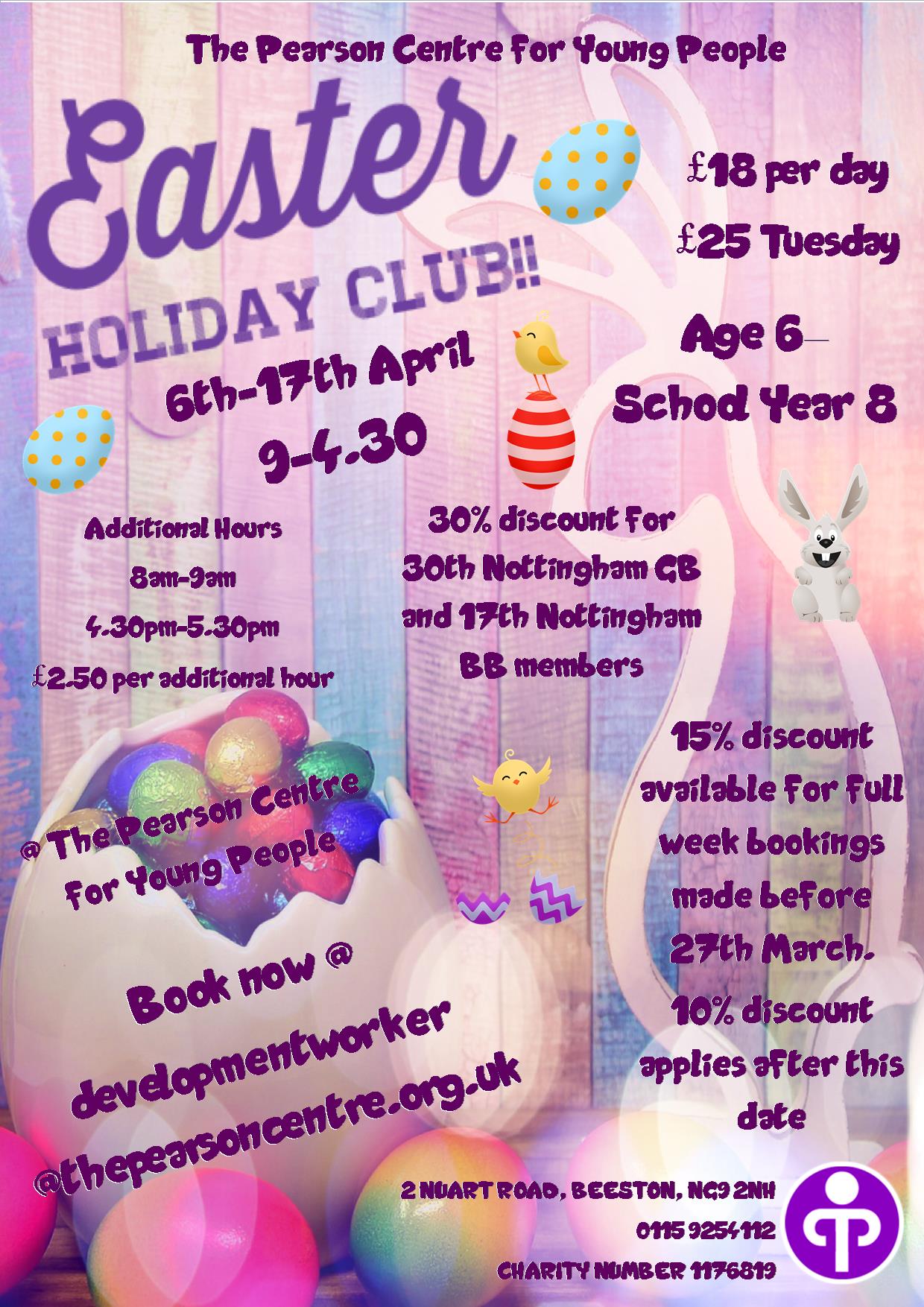 What to expect
ARTS & CRAFTS
We love getting creative during holiday club and having the opportunity to make something. Don't worry if you are not very creative, just come and have a go!
BAKING
Each day during holiday club we test out new and exciting recipes relating to our holiday club theme. We have an excellent kitchen facility at The Centre which gives us the opportunity to create tasty masterpieces and the best part is getting to eat what we have made! 
SPORTS
During our holiday clubs we believe it is really important to keep active. We enjoy doing lots of different sports whilst having fun! At previous holiday clubs we have played dodgeball, athletics games, badminton, quick cricket, rounders, uni-hoc and basketball.
GAMES
We love playing group games to get everyone involved. It is a great way to get to know one another. A few of our favourites are playing in the wild area, capture the flag, 40/40 it and treasure hunts.
CINEMA
We always try and visit the Savoy Cinema to watch a movie during Holiday Club! It's a really fun trip out, especially with all the sweets and popcorn!!
SWIMMING
Occasionally we go swimming, this will be on a Thursday and get a mini bus to Harvey Hadden. This varies for each holiday club and numbers are limited on Swimming days due to seats on the mini bus. 
Sam really enjoyed holiday club and thought the staff were lovely. She is looking forward to seeing them again soon.
I just wanted to say a massive thank you for Saturday 16th December's Christmas craft day. They both absolutely loved it – and came back with beautiful things they had made. They said they enjoyed doing lots of activities, and liked the small group, and found it very relaxing! Excellent value for money when I think of everything they did on the day. Keep up the good work!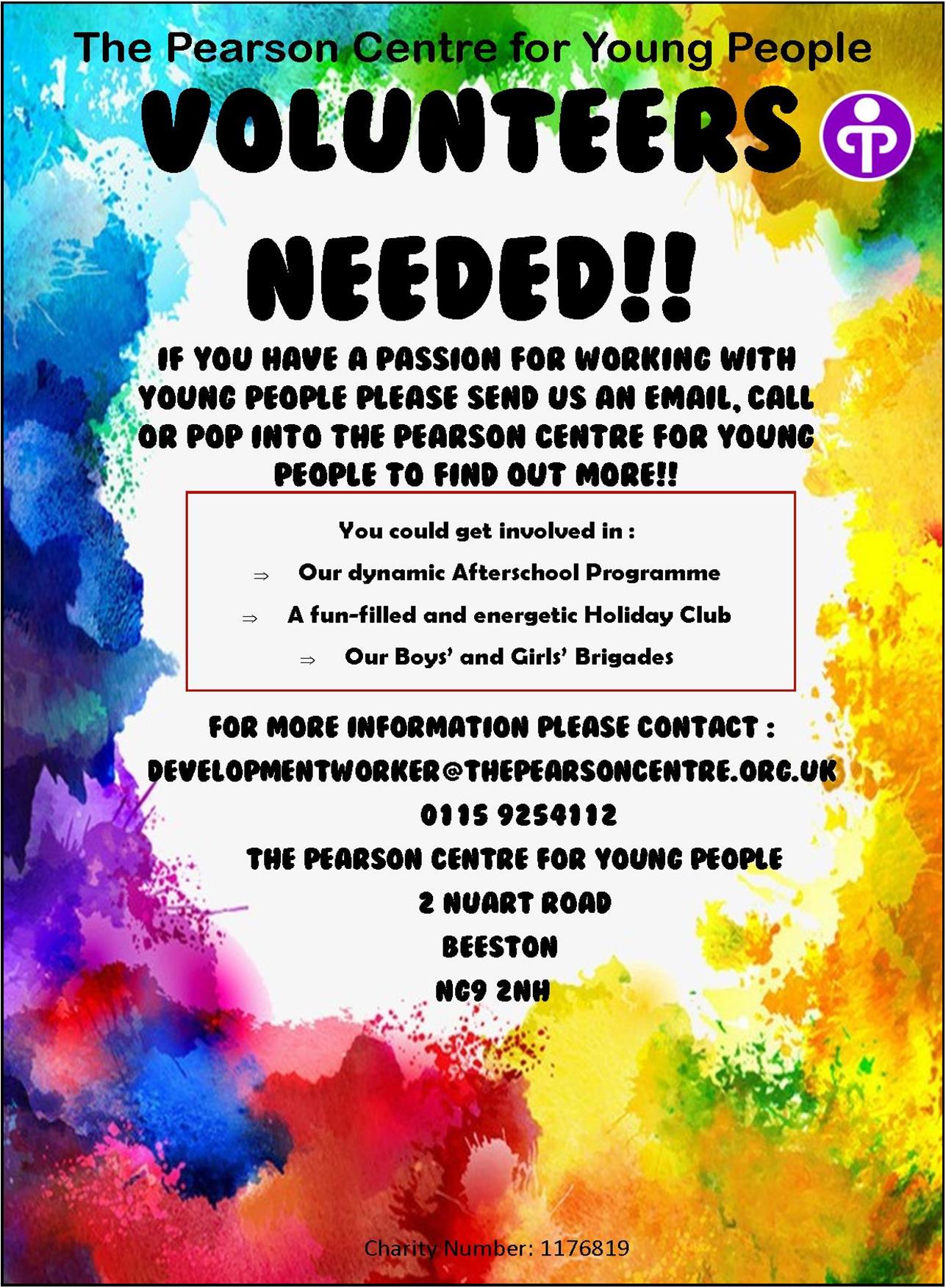 We are recruiting new volunteers for the Holiday Club! 
If you have a passion working with Young People and have some free time over the summer holidays then do not hesitate to get in contact with The Pearson Centre for Young People about Volunteering. We really need your help!
Contact our Development Worker Hayley – developmentworker@thepearsoncentre.org.uk or ring the office on 0115 9254112 for any more information or to register your interest!