69th Annual Pantomime
Our production in January will be Sleeping Beauty, our 69th pantomime and the 12th at The Pearson Centre.
Watch this space to find out more!
Tickets go on sale from 19th November
Click here to view our past performances.
Join in the Fun!
Fancy joining Boys' and Girls' Brigade?
Boys' Brigade is every Monday and Tuesday during term time and Girls' Brigade every Thursday during term time.  A great place to make new friends, have lots of fun and do different activities each week.
Boys' Brigade – Monday
Company for ages 11 – 14 (7pm – 9pm)
Seniors for ages 14 – 18 (7pm – 9pm)
Boys' Brigade – Tuesday
Anchors for ages 5 – 8 (6:15pm – 7:30pm)
Juniors for ages 8 – 11 (6:15pm – 8pm)
Girls' Brigade – Thursday 
Explorers for ages 4 – 8 (5:45pm – 7pm)
Juniors for ages 8 -11 (6:30pm – 8:15pm)
Seniors for ages 11 – 14 (7pm – 9pm)
Brigaders for ages 14 – 18 (7pm – 9pm)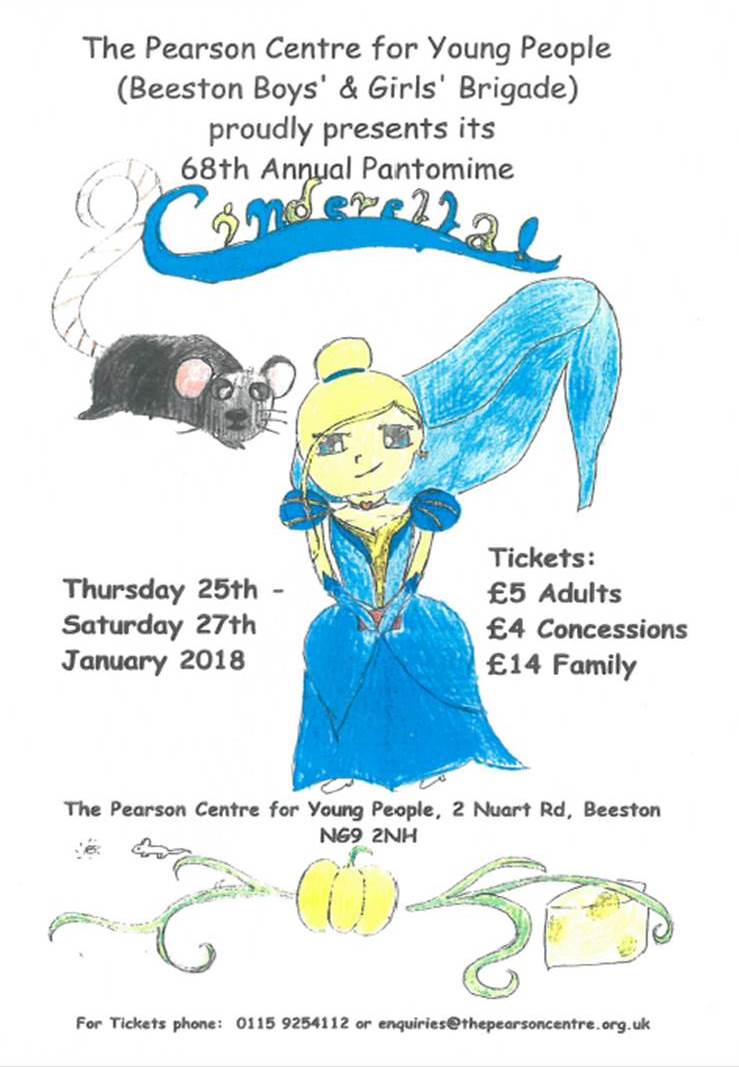 Pantomime Cast
Cinderella – Shannon Burton
Prince Charming – Kayleigh Burton
Dandini – Ruby Ashmore
Princess May – Eve Slater
Buttons – Sam Green
Wellington (The Dog) – Olivia Halliday
Boroness Hardup – Martin Collins
Baron Hardup – Dylan Halliday-Jones
Hon. Miss Ermyntrude – Tom Jowett
Hon.Miss Hortense – Paul Lambert
Crafty Clara – Sophie Goodman
Fairy Godmother – Evie Deehan
Bashem – Kay Sullivan
Bonkem – Freya Lloyd-Jones
Lilly – Emma Fratanolo
Harry – Jade Hind
Haughty – Emily Barr
Taughty – Cadi Davis
Chorus – Tilly Bacon, Kenny D'Arcy, Katie Johnson, Abbie McDougall
Oh no there isn't.....Oh yes there is!
ACKNOWLEDGEMENTS
We express our thanks and appreciation to all those who have taken part or helped in any way including those not mentioned:
BBC Radio Nottingham, Beeston Express Newspaper, Beeston Local News, Breeze Magazine, GEM 106 Radio, Geoff Green Joinery, Nottingham Post, Nottingham Theatre Royal, Pizza Hut, Quality in Wood, Rotary Club of Beeston, Toton, Chilwell & Attenborough Connected Magazine