Have an hour or two to spare during the week? Want to help children and young people develop? The Pearson Centre relies on volunteers to work with the children and young people who attend The Centre.  Our activities include Athletics Club, Cookery Club, Dodgeball, Discovery, Youth Gym, Find Your Art, Boys' Brigade and Girls' Brigade. If you would like to get involved please contact The Centre to find out more!
THE PEARSON CENTRE VOLUNTEER TEAM
We would like to say a big thank you to our volunteers. With their dedication and hard work we are able to offer great activities for children and young people at The Pearson Centre for Young People.    
Nathalie Barber      
Sara Hand                     
Alisha Lawrence          
Liz Shilcock
Becky  Harris   
James Hellon                 
David Steggles
Graham Bostock       
Simon Lukas            
Caleb Kindermam                       
Alfie Russell
Paul Hand                 
Kerrie King
Emmanuel Chukwuma
Ksenija Beschastnih
Steven Thornton 
Heather Brough     
Kay Sullivan
Andrew Bunyan       
Daniel Swain
Sarah Butcher      
Dan May                  
Jack Titterton
Caroline Jones 
Sam May                  
Andy Glasgow         
Daniel Young
Janie Goodman        
Jack Ireland
Elizabeth Murton
Kate Aspden-Mansfield
Millie Thorpe 
Karen Jowett 
Scott Underwood
Becki Coope             
Thomas Jowett   
Adam Walker
Wendy Kane                      
Charliey Kelvey 
Bryan O'Connor       
Emma Williams
Elliott Kerry                     
John M A Wilson
Ian George               
Alexander Bunyan 
Daniel Eyres
Lydia King 
Lauren Haynes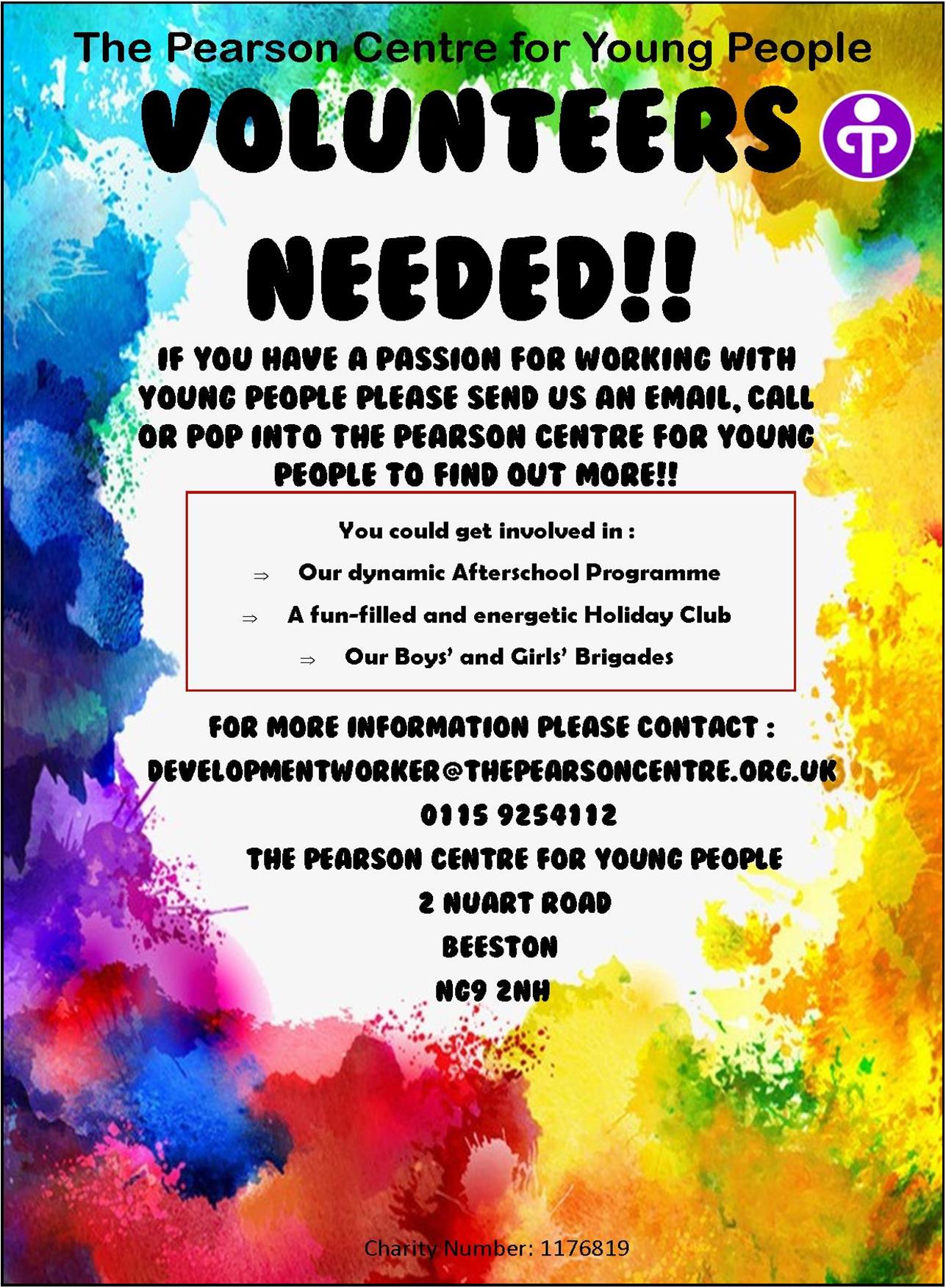 "As a volunteer, I was supported from the beginning and throughout my time at the Pearson Centre. The development activities gave me a platform to develop my skills of working with young people as well as the confidence to lead sessions. Thank you for a great experience! "
"For anyone looking to volunteer at The Pearson Centre, I would strongly recommend it! There are many different opportunities to volunteer – from the Boys Brigade to after school clubs. I have helped out in the Boys' Brigade and Holiday Clubs and cannot remember a time where I have not enjoyed myself! Helping with activities, setting up tasks and joining in with the kids is really rewarding. It's fun, gives you a sense of responsibility and allows you to gain lots of skills while helping others out. Whether you are good at crafts, sports, cooking or just communicating with the kids, there will be a club that will benefit from the skills you have to offer."
We are looking for new volunteers for our Autumn Holiday Club! 
For information on our next Holiday Club click here.
If you want to be involved with volunteering in the Holiday Club then do contact our office on 0115 9254112 or our development worker Hayley Wattis – developmentworker@thepearsoncentre.org.uk